LOTS WILL START CLOSING AT 1:00PM WITH BIDDING EXTENSION OF 2 MINUTES. LOTS WILL CONTINUALLY CLOSE IN CATALOG ORDER UNTIL ALL LOTS ARE CLOSED.

Contact Agent: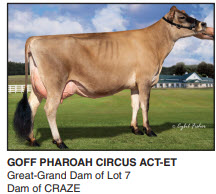 BORN 02/23/2021 P9 BBR 100
FEMALE EFI 8.5% AMERICAN ID 57573/57573 JH1F JNSF
CDCB GPTA S 11/02/2021 0RECS 73%R 99%ILE
977M 0.04% 56F 0.00% 35P 595CM$ 591NM$ 563FM$
3.4PL 1.0LIV -1.0DPR 0.2CCR 2.3HCR 2.96SCS 547GM$
0.0MFV 0.1DAB -0.1KET -1.9MAS 0.1MET -0.3RPL -3.14HTI
AJCA 11/02/2021 GPTAT 76%R 1.3 GJUI 11.9
GJPI 69%R 123
SELLING OPEN
LOCATED IN HILMAR, CA.
Location:
401 E. Main St, Turlock CA, 95380
More Details
BORN 02/23/2021 P9 BBR 100
FEMALE EFI 8.5% AMERICAN ID 57573/57573 JH1F JNSF
CDCB GPTA S 11/02/2021 0RECS 73%R 99%ILE
977M 0.04% 56F 0.00% 35P 595CM$ 591NM$ 563FM$
3.4PL 1.0LIV -1.0DPR 0.2CCR 2.3HCR 2.96SCS 547GM$
0.0MFV 0.1DAB -0.1KET -1.9MAS 0.1MET -0.3RPL -3.14HTI
AJCA 11/02/2021 GPTAT 76%R 1.3 GJUI 11.9
GJPI 69%R 123

SELLING OPEN
LOCATED IN HILMAR, CA.

Location: 401 E. Main St, Turlock CA, 95380
Reserve Not Met
No Bids
Starting at $1,200.00
Bidding has closed on this lot